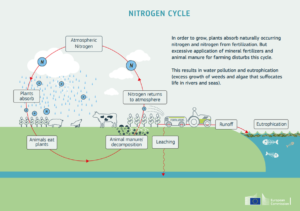 Dairy production has continually been a central part of Ireland's agriculture production in the last 10 years, with an increase in milk intake of 52% in the period from 2013 to 2020 indicative of the level of growth that has been experienced. Ireland, which has over 1.5 million dairy cows in total, was the sixth-highest producer of milk in the EU in the 2022 calendar year and looks to hold that position in 2023 as well according to National Statistics Bureau figures.
Accompanying the increase in milk production, nitrogen balances per hectare have remained over 150 kg for the last five fully recorded years on average, in line with the EU's requirement to keep nitrates of nitrogen levels below 170 kilograms per hectare.
However, at the higher end of the average, a group of up to 3,000 dairy farms have had a derogation to have levels of up to 250 kilograms of nitrogen per hectare as can be seen from the chart below. From the beginning of 2024, the EU will limit these levels to a maximum of 220 kilograms per hectare as detailed in paragraph 20 of the EU declaration here.
By comparison, in 2022 the cattle farming, sheep farming, and tillage sectors had nitrogen balances of 43.6, 30.4, and 40.5 kg/ha respectively in 2022.
Source: Teagasc National Farm Survey 2022 Sustainability Report
Taoiseach Leo Varadkar has stated that he will invite the EU environment commissioner to visit Ireland over the ending of the nitrates derogation agreement, which was brought on after a the 2023 followup to a 2022 EPA review showed significant areas of the country had excessive levels of nitrates in water The same report noted that 44% of Irish rivers have nitrate concentrations high enough to impact both river and seawater quality downstream as of 2022. In approximately 20% of cases, groundwater nitrate levels were high enough that it approached the threshold where drinking water quality may be compromised.
Taoiseach to invite environment commissioner to Ireland (rte.ie)
The final implementation map was published by the Department of Agriculture and can be found here